Heart-Centered Leadership
Encouraging emotional connections between managers and employees is the key to better performance and improved employee engagement. This is the essential message that authors, Susan Steinbrecher and Dr. Joel Bennett, deliver in the book, Heart-Centered Leadership: Lead Well, Live Well. In essence, heart–centered leadership is not a singular gold standard or an ultimate pinnacle that only a rare few can achieve. It lies in your ability to stop, go inward, and reflect on the course of action you know is the right one, rather than succumbing to external pressures and circumstances.
Leaders can move mountains when they understand that they share the same universal needs that their associates do. People want to be valued, listened to, appreciated, respected, involved and connected. They wish to have meaning in their lives. At the very least, people want to maintain their level of self-esteem and, ideally, enhance it.
By embracing a heart-centered approach to leadership, you will be in a more powerful position than you could possibly have imagined. After all, what can be more powerful than motivating an associate to go the distance for you and your organization, because he or she is inspired by you and respects you so highly? More importantly, you will genuinely and deeply touch the lives of others by your actions.
A top learning priority of an awakened organization is how to have authentic dialogue. If we listen, our hearts will tell us to think about what others need to consider their perspectives and contemplate how our own actions might affect them.
Susan Steinbrecher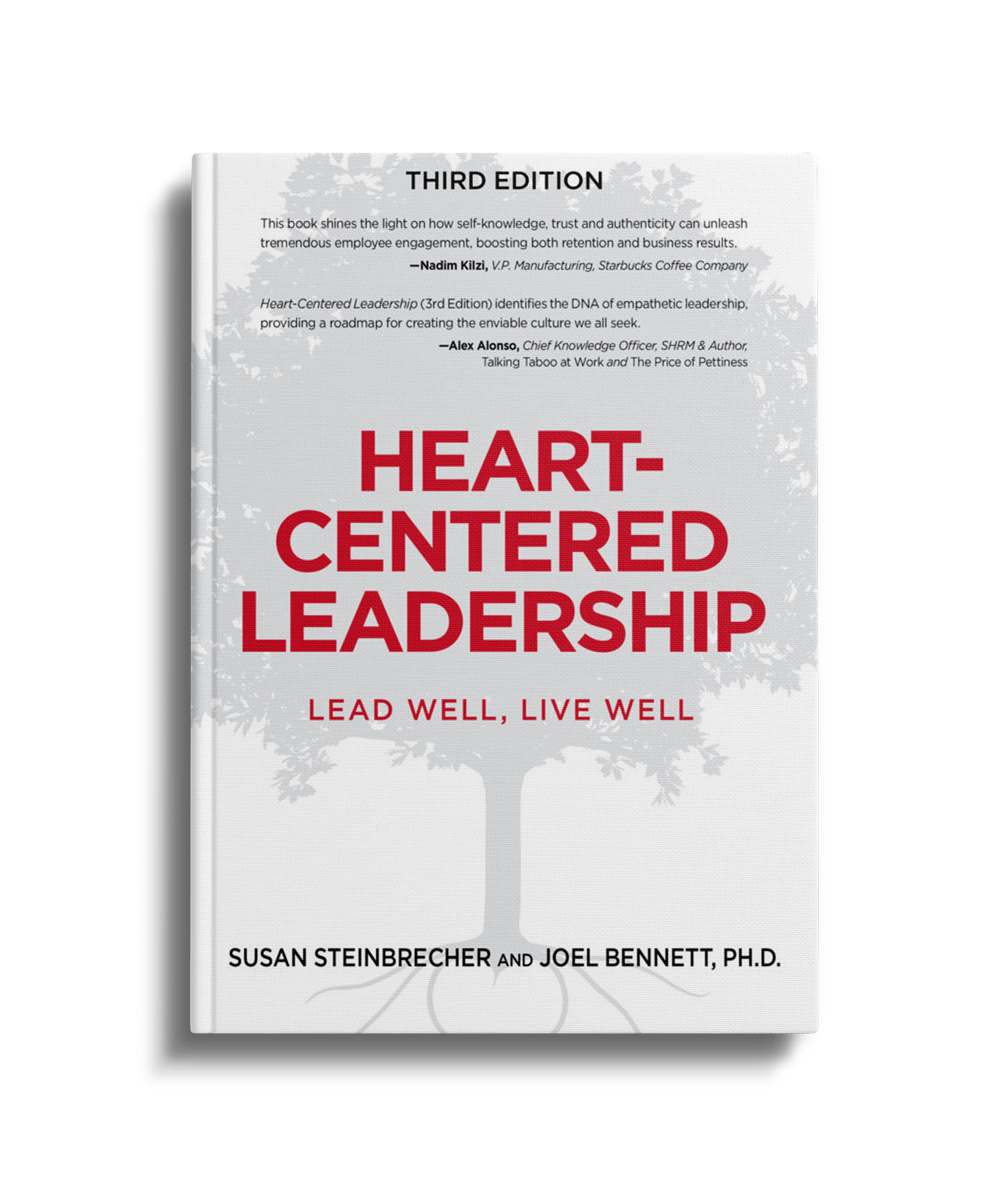 Heart-Centered Leadership: Lead Well, Live Well (Third Edition) was published in 2023
The need for Heart-Centered Leadership (HCL) has grown since the first edition was published twenty years ago.  It was penned in 2001, when the United States was in the wake of two major events:  the Enron scandal and the September 11 attacks. These realities took a toll on the American worker.  All of this prompted the need for more integration of operations, collective leadership, and collaboration in many organizations.  It also spawned a greater awareness of the influence of mental health on worker productivity, as well as the impacts of post-traumatic stress disorder on people who have experienced trauma.
Fast forward two decades, and the world has endured a devastating COVID-19 pandemic. The resulting death, serious illness and family and parental stress have caused people to reconsider the role of work in their lives. (We believe and can point to evidence this was developing long before the pandemic.) In reality, long-held feelings of disconnection are largely responsible for the "Great Resignation" we witnessed with the onset of COVID-19.
Fortunately, we know that empathy, real listening, respect, authenticity, and integrity—all components of Heart-Centered Leadership—are what foster connection, along with a sense of support and a feeling of belonging. We believe Heart-Centered Leadership is the antidote to the withdrawal we've seen from work and the accompanying decrease of productivity.
Heart-Centered Leadership serves as a necessary reminder that each of us has unique goals and purposes, and to access them, we need to slow down and look within. In creating more responsible and conscious businesses, following steps to heart-centered leadership is something a lot of us could benefit from.
Jeffrey Hollender
Co-Founder & Former CEO, Seventh Generation